5 Top Tips for Flying with Young Children
Posted
(BPT) - Flying with kids can be a stressful undertaking, even for the most seasoned travelers. Preparing for a flight with a baby or toddler can present all sorts of questions: Which seats should you reserve? Which toys should you bring to entertain your little one during the long hours of travel time? What kind of snacks should you pack? And how will you manage to get through the security checkpoint with your sanity intact?
Carter's, the most trusted brand of apparel exclusively for babies and young children, understands how parents feel and has created a foolproof list for traveling with young children.
1. Carefully consider flight options. Pay attention to the schedule of the flight. Select flights that work with your little one's daily routine. Tip: Morning flights are often the best choice when traveling with a toddler on a plane.
2. Pick the right seats. If you're purchasing a seat for your child, remember that most airlines allow children to be seated next to an accompanying adult free of charge. Sitting near the rear of the plane will give you easier access to the bathrooms and, if you can snag seats in the front row, you'll have more legroom, just not easy access to your carry-on items in bulkhead seats.
3. Pack the essentials in your carry-on. In addition to what's packed in your personal item, pack your carry-on (a comfortable backpack diaper bag works great!) with other items you'll need easy access to, such as:
Infant supplies like diapers and wipes, bottles and formula. Tip: Purchase at least two water bottles for your carry-on once you get through security.
Sippy cups and novelty snacks for your toddler. Food storage containers with twist and lock lids are very handy for snacks on a plane.
Your child's lovey, blanket or favorite toy. Soft books or activity toys are a good choice for babies and toddlers, while coloring books are great options for preschoolers or older children. Tip: Buy a new toy to surprise your child with on the plane.
A change of clothes for you and your child, toothbrushes, travel-sized toothpaste and pajamas. Don't underestimate the power of packing clothing sets for boys and girls. They're easy to throw in your bag without having to think about it. And don't forget socks and underwear! These are among some of the most forgotten travel items.
4. Wait until the last minute to board. Rather than being cooped up on the plane while you wait for everyone else to make their way on board, you can let your kids get their wiggles out in the space and comfort of the airport terminal. If you're flying with a partner or other adult, let them board ahead of you with the carry-on luggage while you hang back with the kids to ensure your bags have a place on board.
5. Enter Carter's Airplane Apology Agreement.
While other passengers are generally kind and patient, it's easy to stress about your child fussing and disrupting others. To help avoid judgmental looks from fellow travelers, enter Carter's Airplane Apology Agreement, a contract and cash package that parents can pass out on their next flight.
Carter's hopes that equipping parents with the Airplane Apology Agreement will bring some relief and levity to what is generally a stressful experience.
Parents can take advantage of the Airplane Apology Agreement by entering the giveaway online at www.carters.com/airplaneapology from April 11 to April 17. Five families will win a bundle that includes an Airplane Apology Agreement and 15 envelopes each containing $100 cash cards for parents to pass out to neighboring passengers. Winners will also receive a bonus bodysuit for baby to wear on the plane. To enter, visit www.carters.com/airplaneapology.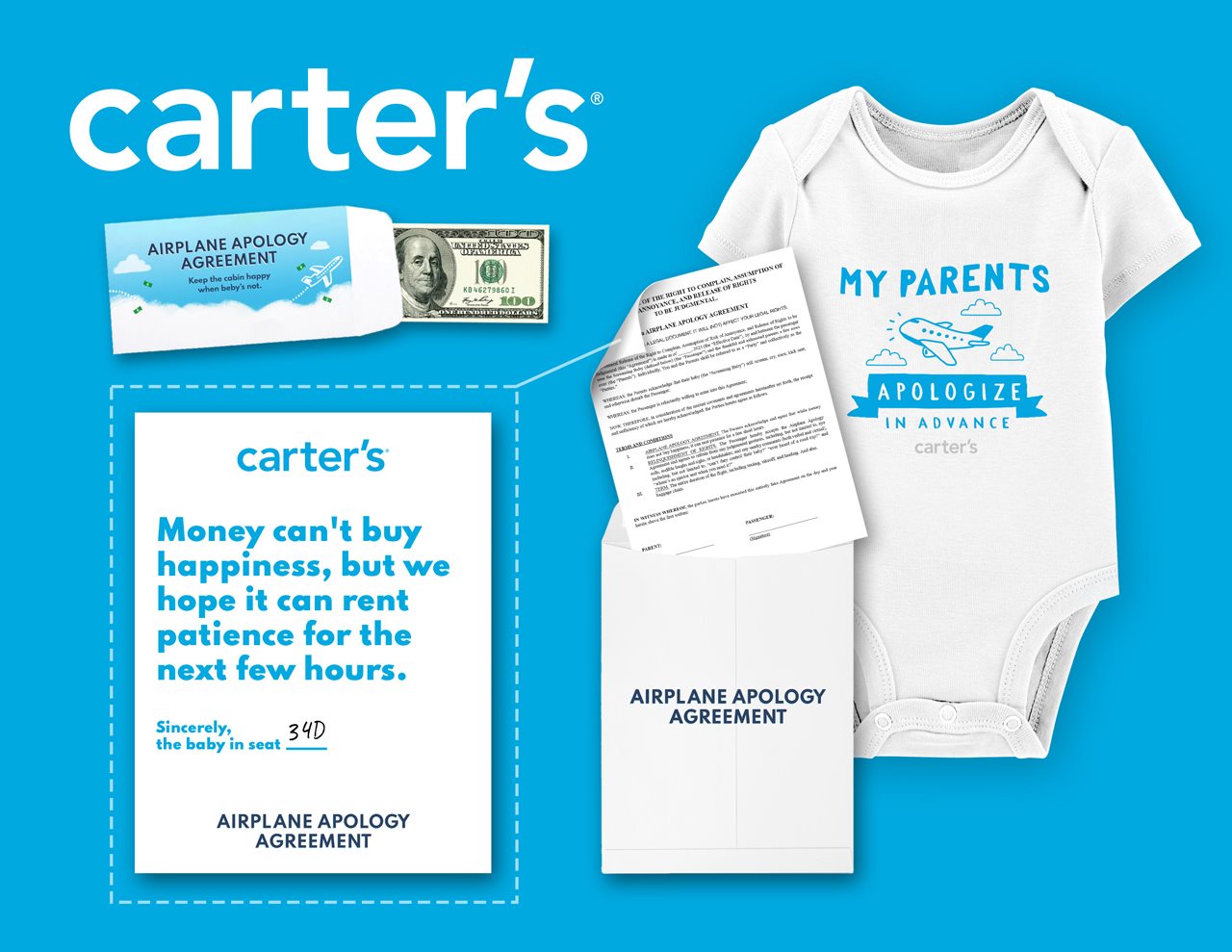 ---
---
---
---